7 May 2008
As the semester wraps up, I want to consider a short paper on a recurring topic: cis and trans changes in evolution. In last week's PNAS, Chung-I Wu's lab reports a chromosomal substitution method to compare Drosophila melanogaster populations. They conclude that there is a bias in the genomic distribution of genes with each class of regulatory change, that purely cis differences are rare, and that epistatic or cis-by-trans effects are predominate.
Wang, H.-Y., Y. Fu, M. S. McPeek, X. Lu, S. Nuzhdin et al., 2008 Complex genetic interactions underlying expression differences between Drosophila races: Analysis of chromosome substitutions. PNAS 105: 6362-6367. [Link to HTML & PDF]
---
30 April 2008
This week let's examine the story of an interesting organism we haven't previously discussed. The Mexican tetra, Astyanax mexicanus, has invaded caves multiple times in recent geological history and while the ancestral stream population persists, cave populations have undergone parallel evolution towards a troglodytic, or cave-dwelling, morphology, lacking eyes and pigmentation, among other interesting traits. Meredith Protas and Cliff Tabin have been investigating this system as an evolutionary model, and find evidence for different molecular mechanisms underlying some troglodytic characters, as well as a role for pleiotropy in fascilitating rapid evolution of multiple characters.
Protas, M., Tabansky, I., Conrad, M., Gross, J. B., Vidal, O., Tabin, C. J. and Borowsky, R. (2008). Multi-trait evolution in a cave fish, Astyanax mexicanus. Evolution & Development 10: 196-209. [Link to HTML & PDF]
Protas, M., Conrad, M., Gross, J. B., Tabin, C. and Borowsky, R. (2007). Regressive Evolution in the Mexican Cave Tetra, Astyanax mexicanus. Current Biology 17: 452-454. [Link to HTML & PDF]
What can these studies tell us about parallel evolution in this group or generally? How common is pleiotropy likely to be in the evolution of coordinated character suites?
---
23 April 2008
This week Frank has chosen two papers related to the release of the genome sequence of a choanoflagellate. These sometimes-single-celled, sometimes-colonial eukaryotes are thought to represent the sister clade to all living metazoans. As such they have the potential to reveal what genes and cellular processes the ur-metazoan might be have been able to employ before it evolved to multicellularity as we know it.
King, N., et al. (2008). The genome of the choanoflagellate Monosiga brevicollis and the origin of metazoans. Nature 451: 783-788. [Link to HTML & PDF]
Nielsen, C. (2008). Six major steps in animal evolution: are we derived sponge larvae? Evolution & Development 10: 241-257. [Link to HTML & PDF]
How can we use comparative genomics to re-imagine ancestral forms? What are the pitfalls and limitations of this approach? Are animals unique in their form of multicellularity? Does evolution from a choanoflagellate-like ancestor jibe with traditional notions of animal origins?
---
16 April 2008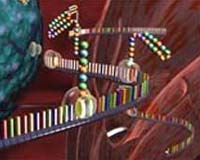 Elizabeth has suggested a paper for this week in the realm of molecular evolution. This paper from the lab of Chung-I Wu investigates the origins of microRNA genes in fruitflies. Let's compare this to another recent paper that examines a more traditional case of gene origins, duplication in a protein coding gene with evidence of subfunctionalization.
Lu, J., Shen, Y., Wu, Q., Kumar, S., He, B., Shi, S., Carthew, R., Wang, S. and Wu, C. (2008). The birth and death of microRNA genes in Drosophila. Nature Genetics 40: 351-355. [Link to HTML & PDF]
Beisswanger, S. and Stephan, W. (2008). Evidence that strong positive selection drives neofunctionalization in the tandemly duplicated polyhomeotic genes in Drosophila. PNAS 105: 5447-5452. [Link to HTML & PDF]
---
9 April 2008
In the evolution of gene regulatory mechanisms, if you consider a single locus, changes can occur that are cis, or in the regulatory DNA controlling the locus, or trans, often thought of as changes in proteins that bind to the cis-regulatory DNA. Recently, there has been much debate about which mode of change is more typical in evolution, in general, or in particular kinds of traits (e.g. Wray '07; Hoekstra & Coyne '07). Patricia Wittkopp has developed a pyrosequencing method to examine gene expression in hybrid flies. These experiments have the potential to provide new insights into this debate. A pair of recent articles from her lab will be our starting point for this week.
Wittkopp, P. J., Haerum, B. K. and Clark, A. G. (2008). Regulatory changes underlying expression differences within and between Drosophila species. Nature Genetics 40: 346-350. [Link to HTML & PDF]
Wittkopp, P. J., Haerum, B. K. and Clark, A. G. (2008). Independent Effects of cis- and trans-regulatory Variation on Gene Expression in Drosophila melanogaster. Genetics 178: 1831-1835. [Link to HTML & PDF]
---
2 April 2008
This week let's get away from issues of networks and gene regulation and look at some interesting phenomena from macroevolution and paleontology. A paper from last week's PNAS argues for an increasing anatomical complexity in long-term evolution, based on the study of several crustacean groups. This raises the related issue of how animal forms explore the morphospace of possible anatomies. This idea is addressed in the second article which considers Cambrian animals and their disparity.
Adamowicz, S. J., Purvis, A. and Wills, M. A. (2008). Increasing morphological complexity in multiple parallel lineages of the Crustacea. PNAS 105: 4786-4791. [Link to HTML & PDF]
Thomas, R. D. K., Shearman, R. M. and Stewart, G. W. (2000). Evolutionary Exploitation of Design Options by the First Animals with Hard Skeletons. Science 288: 1239-1242. [Link to HTML & PDF]
---
26 March 2008
Frank has suggested a short paper for this week on canalization in developmental networks. The paper takes a mathematical approach to considering networks, so I wanted to include two other short articles that offer an evolutionary and a biochemical view of networks. (Don't worry. It's only 10 pages for the 3 articles!) How do these different assessments jibe? What's the distinction between canalization and constraint? What's your view on how gene networks influence evolution?
Siegal, M. L. and Bergman, A. (2002). Waddington's canalization revisited: developmental stability and evolution. PNAS 99: 10528-10532. [Link to HTML & PDF]
Weitz, J. S., Benfey, P. N. and Wingreen, N. S. (2007). Evolution, interactions, and biological networks. PLoS Biology 5: e11. [Link to HTML & PDF]
Kim, P. M., Lu, L. J., Xia, Y. and Gerstein, M. B. (2006). Relating three-dimensional structures to protein networks provides evolutionary insights. Science 314: 1938-1941. [Link to HTML & PDF]
---
19 March 2008
Welcome back after Spring Break. This week let's step back and consider a broad idea and a classic system in evo-devo. In the first paper, Veronica Hinman and Eric Davidson present new comparative data on mesoderm development in echinoderms and argue for hierarchical, differentially-evolvable levels in developmental gene networks. Drawing on some of these ideas, the second paper is a review by Georgy Koentges that discusses evo-devo in the context of systems biology.
Hinman, V. F. and Davidson, E. H. (2007). Evolutionary plasticity of developmental gene regulatory network architecture. PNAS 104: 19404-19409. [Link to HTML & PDF]
Koentges, G. (2008). Evolution of anatomy and gene control. Nature 451: 658-663. [Link to HTML & PDF]
---
5 March 2008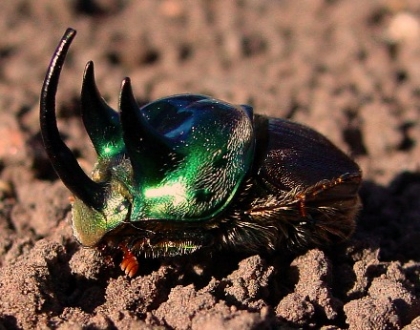 Our discussion of parallelism last week got very interesting, so let's explore this idea a bit more. First, Arendt & Reznick review the evo-devo literature and come to a very different conclusion than Abouheif regarding parallelism. Second, as an example of the role that developmental bias can play in phylogenetic distribution of parallel morphologies, Moczek and coworkers (including UConn EEB alumna Tami Cruickshank) present an important developmental insight into the evolution of horns in dung beetles.
Arendt, J. and Reznick, D. (2008). Convergence and parallelism reconsidered: what have we learned about the genetics of adaptation. Trends in Ecology & Evolution 23, 26-32. [Link to HTML & PDF]
Moczek, A. P., Cruickshank, T. E. and Shelby, A. (2006). When ontogeny reveals what phylogeny hides: Gain and loss off horns during development and evolution of horned beetles. Evolution 60, 2329-2341. [Link to HTML & PDF]
---
27 February 2008
This week let's consider two related ideas: constraint and parallelism. Genetic constraints can be thought of as one cause for the evolution of convergent or parallel phenotypes in separate lineages. Kalisz and Kramer review the influences of plant development on the evolution of these organisms, particularly with regard to issues of genetic constraint. Finally, Ehab Abouheif has a short commentary in Evolution & Development on the origins and significance of parallelism in "mesoevoluition".
Kalisz, S. and Kramer, E. M. (2007). Variation and constraint in plant evolution and development. Heredity 100: 171-177. [Link to HTML & PDF]
Abouheif, E. (2008). Parallelism as the pattern and process of mesoevolution. Evolution & Development 10: 3-5. [Link to HTML & PDF]
---
20 February 2008
After starting this semester discussing flies and worms, let's move a bit farther from the genetic model systems and consider the some more charismatic organisms. Amphibians are a well studied group that display a range of character combinations. In particular, this week's paper looks at foot webbing, its development and relationship to evolutionary lineages. How does an ontogenetic understanding of these organisms influence our thinking about the evolution of this trait or this group?
Goldberg, J. and Fabrezi, M. (2008). Development and variation of the anuran webbed feet (Amphibia, Anura). Zoological Journal of the Linnean Society 152: 39-58. [Link to HTML & PDF]
---
13 February 2008
This week let's revisit the concept of robustness with a recent review from Heredity. However, this article focuses on a system that we could be accused of neglecting in our past discussions, the humble nematode Caenorhabditis elegans. Related worms display a remarkable degree of developmental and phenotypic variation, and the genetic resources available from C. elegans make nematodes a promising model group for evo-devo studies.
Felix, M. A. and Wagner, A. (2006). Robustness and evolution: concepts, insights and challenges from a developmental model system. Heredity 100, 132-140. [Link to HTML & PDF]
---
6 February 2008
Welcome back! What are the developmental genetic underpinnings of rapidly evolving traits at the level of sibling species? Is this an experimentally tractable question? Is it likely a small number of loci could be involved in such instances for a significant number of traits? These questions and others have been examined in this week's paper using the power of fruitfly genetics and genomics.
Randsholt, N. B. and Santamaria, P. (2008). How Drosophila change their combs: the Hox gene Sex combs reduced and sex comb variation among Sophophora species. Evolution & Development 10, 121-133. [Link to HTML & PDF]